Welcome to Jardine Inspections!

Every Home We Inspect Is Someone's Castle

We want to introduce you to our staff that will be serving you and your home inspection needs.

Matthew Jardine is the owner of the Jardine Office. Matthew has been performing inspections for our office for about ten years. He is an ASHI Certified Inspector (ACI) and has been trained to give the best possible inspection and provide an easy to understand report for buyers and sellers. Matthew has been involved in the termite business and construction prior to owning the business. He is married and a resident of St. Louis County. His valuable assets include providing extremely good service, in depth inspections that meet or exceed ASHI Standards (The American Society of Home Inspectors) and to communicate findings in an easy to understand manner. First time buyers are his specialty. Matthew is also an active member in the local ASHI chapter. Matthew can help with Home Inspections, Termite Reports and Radon Monitoring.

Hank Jardine has been serving sellers and buyers for almost 14 years with the Jardine Office. Hank is Matthews father and is an active member of the St. Louis ASHI Chapter and is also an ACI (ASHI Certified Inspector). Hank's background much like Matthews was in the termite and pest control business and construction. Hank was a trainer for a fortune 300 company for over 27 years prior to owning the Jardine Office. His assets are understanding the client and their needs. His communication skills help make the process easier for sellers and buyers. Because the business is a family owned and operated business, our clients can expect to be treated like gold and with respect. Hank can help with Home Inspections, Termite Reports and Radon Monitoring. First time home buyers are a specialty of his.

The Jardine Office has been serving the St. Louis metro area since 2002 and have been fortunate to have served thousands of satisfied clients. Because we are a local family owned and operated business, we employ everybody in the family. From Matthew and Hank who do the inspections and marketing to Jane and Tina who do the marketing supplies and answer the phones. We are proud to be a family owned and operated business.

In brief, you should know the following about us: our company was established in 2002 and had been responsible for providing outstanding home inspections, termite inspections and radon monitoring ever since. Our specialty is in the area of new home buyers. Our regular customers value our easy to read and understand computer generated reports with digital photos. Our business is located St. Charles and St. Louis, Missouri.

To get more information or schedule an inspection, please call us at our cell 314-308-6489 or office number 636-240-5700.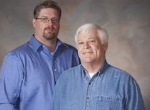 Check out our YouTube introduction

Here's a website to help with home buyers and sellers

Here's our Facebook Page, come like us

If you've got a QR scanner on your smartphone don't forget to check out our Facebook page.